Tennessee Crash Reports
Request A Tennessee Accident Report Online
Dealing with the aftermath of an accident could mean physical and emotional trauma. But your Tennessee crash report will help you with the details needed to move forward.
The information about your accident is critical, and your Tennessee accident report will provide you with those details. With the support of MyAccident.org, we can help you obtain a copy of your crash report as well as answer common questions about the process.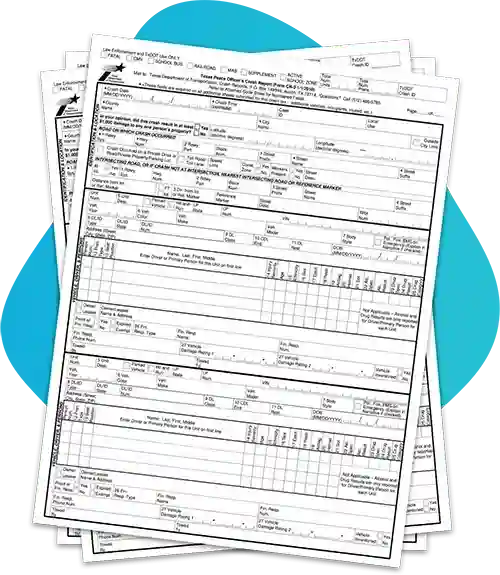 The 'SF-1203 Tennessee Uniform Crash Report'
A Tennessee accident report is officially titled as 'SF-1203 Tennessee Uniform Crash Report'. It is used by law enforcement to record the details relating to an incident involving any type of vehicle. The details in the SF-1203 Tennessee crash report are recorded by the police officer who attended the scene of the accident. Tennessee law requires drivers to report all accidents involving $50 or more of property damage, injury, or death. Additionally, as required by Tennessee law, you must file an Owner/Driver Report Form SF-0395 within 20 days if the property damage exceeded $400, there was injury, or a person was killed in an accident. The following documents and websites provide more information and detail on motor vehicle crash reports in Tennessee:
When Should I Request a Legal Consultation?
1. You Are Hurt or Suffered a Serious Injury or Permanent Disability
If you were seriously injured in an accident or acquired a serious illness, you definitely need a lawyer. There is no room for chance when a lifetime of pain, suffering, and bills are on the line.
2. You Aren't Sure Who is At Fault
If you were involved in an accident and it is unclear who was at fault, you should definitely consult with an attorney. In situations like this, the other party's insurance company will try to blame you for damages.
3. There Are Multiple Parties Involved
If you were injured in an accident that involved multiple parties, consulting with a personal injury lawyer will give you the best chance at not being stuck with the bill.
4. The Insurance Company Denied or is Delaying Your Claim
Insurance companies know that 99% of people do not understand all the complicated laws and procedures that take place in a personal injury claim.
5. An Injury Lawyer is Paid Only When The Case Settles
A personal injury attorney gets paid by winning money for their client through a personal injury lawsuit.
Speak with a local attorney now:
¿Español? Llame Gratis 24/7
407-634-5725
| Title | PDF |
| --- | --- |
| Owner/driver Report Form SF-0395 | |
| SF-1203 Tennessee Uniform Crash Report | |
| Tennessee Crash Code Guide | |
3 Ways to Get A Copy Of Your Tennessee Crash Report
1. Order Online Through Tennessee's Online Portal
To request your crash report online from the Tennessee Department of Safety and Homeland Security's online portal , you will need to provide information about the accident and specific driver or vehicle involved in the crash. You will also need to provide your Last Name, Date of Accident, Reporting Agency, Driver's License Number, and one of the following: VIN, License Plate, Case or Tracking Number. You will also need to provide payment for the applicable fee.
2. Request by Mail
A cashier's check, money order, or personal/business check in the amount of $4.00 must accompany your request. Be sure and include the address to which you would like the Crash Report mailed.
Mail your request to:
Tennessee Department of Safety & Homeland Security
Financial Responsibility Division
PO BOX 945
Nashville, TN 37202-0945
3. Other Data Sites like LexisNexis or CrashDocs
These can be a good reliable source of data. However the sites can be difficult to use and do not have all the Police Agencies in Tennessee. (sometimes less than 50%)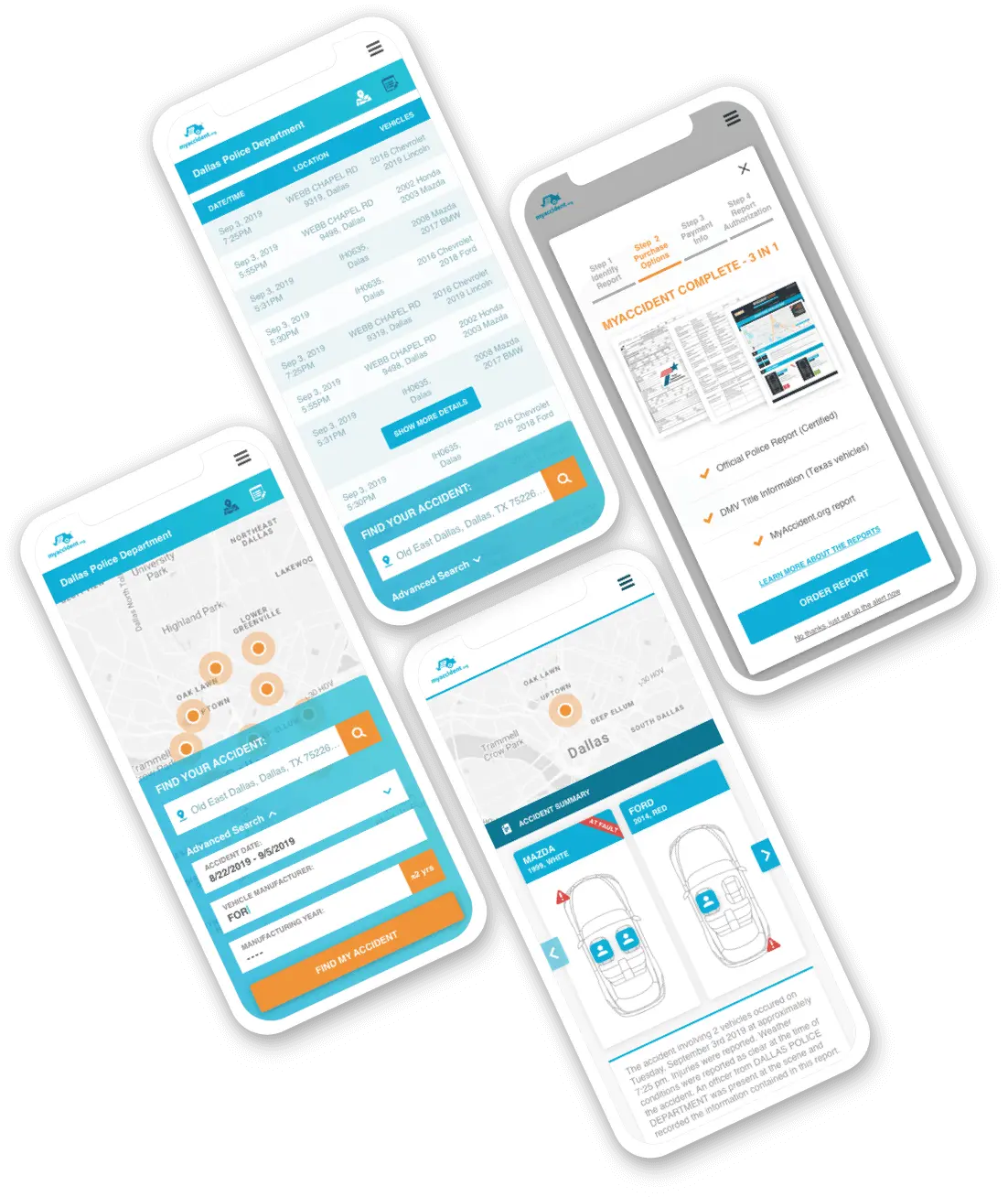 Looking for a specific Tennessee county or city?
Tennessee Accident Reports - FAQ
---
When Should I Report an Accident?
Tennessee law requires drivers to report all accidents involving $50 or more of property damage, injury, or death.
When Should You File a Tennessee Crash Report
You are also required, as per Tennessee state law to file an Owner/Driver Report within 20 days if (1) property damage exceeded $400 (2) there was an injury or (3) a fatality occurred due to the accident.
Why is a Crash Report Important?
Data from this report is used for many purposes including:
Identifying locations with a large number of crashes.
Improving dangerous highways and intersections.
Developing highway safety public information programs.
Developing programs to save lives and reduce highway injuries.
How to read a Tennessee Highway Patrol crash report?
Tennessee accident reports may be filled out by several agencies, alongside the Tennessee Highway Patrol. The Tennessee Department of Safety mandates all forms are standardized using a series of boxes and columns, regardless of which agency attends the scene.
If you are involved in a traffic collision, you need to know how to read THP accident reports. While you will see a lot of information available online, here are the aspects to focus on:
Vehicle Number -

The officer will assign each driver a letter and a number. If two drivers are involved, one will be labeled as V1 and the other as V2. Make sure the number has been assigned correctly when it comes to who the accident apportioned blamed to.

Location -

The time and the location of the crash, including which intersection or highway.

Violations -

Insurance adjusters will pay special attention to any citations the officer issues. Ensure the citation has been assigned appropriately.

Driver Condition -

The Driver Factors section on the report details the officer's opinion on what the likely cause of the crash was. For example, if a driver consumed any medications, this will be noted in this section of the crash form.

Driver Actions -

Officers will write down various codes indicating the actions of each driver. Up to five actions may be recorded, based on driver and witness reports.

Alcohol/Drugs -

The officer is required to record any suspicions of drug or alcohol consumption. If a blood alcohol test or a field sobriety test was performed, this will also be noted.

Vehicle Damage - The officer will diligently record damage to all vehicles involved in any Tennessee accident. There is also space for illustrations and diagrams created by the officer.
Knowing how to read THP crash reports will help you to inspect the report and highlight any factual errors or inconsistencies. Remember, this report is a record of the observations of the officer, not what actually happened.
Can I get a report in person?
If you choose not to obtain your THP crash report online, you also have the option of requesting it in person. Your options depend on which agency investigated the accident.
If the Tennessee Highway Patrol (THP) attended the accident, you can purchase a copy of your crash report for $4.00 seven days after the crash from your nearest THP District Office. There are eight district offices across the state, including Nashville.
Alternatively, if your crash was investigated by another agency, you can also contact that agency. Unlike other states where you would have the option to visit the Tennessee DMV, only the investigating agency can issue Tennessee accident reports.
Upon appearing in person, you will need to supply a form of ID, date of the incident, which county the crash occurred in, and the name of the driver involved. You should also have an agency tracking number provided.
How many people get hurt in traffic collisions in Tennessee?
Tennessee is viewed as one of the most dangerous states for road traffic accidents. In 2021, 1,318 fatalities were recorded in the Volunteer State, which represented an 8.3% increase over 2020.
Despite the relatively high rise in deaths, Tennessee still falls below the national average. Nationally, deaths on the road rose by 10.5%.
In terms of deaths by 100,000 people, Tennessee is the 37th safest state for driving. Approximately 17.6 deaths out of every 100,000 people occurred last year, with the national average being just 10.5.
How strict are Tennessee traffic laws?
It may surprise you to learn that despite relatively high fatality rates, the Volunteer State has strict traffic laws.
For example, red lights with a "no turn" sign requires drivers to treat the light like a yield sign. Drivers are also prohibited from any cell phone use when driving, whereas a DUI will lead to an automatic one-year suspension of your driving license.
One area where Tennessee falls short on road traffic safety laws is seat belt usage. Adult passengers sitting in the back seat are exempt from wearing seatbelts, even though it's well-known back-seat seatbelts save thousands of American lives annually. Unfortunately, handheld phone calls are also legal, unless driving within an active school zone.
---